SILICON VALLEY IS THE CLOSEST PLACE TO THE FUTURE.
Deeply rooted in Silicon Valley, Silicon Valley Future Academy is committed to becoming a global education and consulting company that helps companies and leaders design/execute innovation, technology and business solutions. Silicon Valley Future Academy develops a four-fold service programs: Silicon Valley In-depth Core Curriculum, Enterprise Innovation Acceleration, Venture Advisor and Venture Capital Investment. We aim to gather the world-class faculty, superior resources, cutting- edge ideas and profound value all in one place.
Our mission is to focus on the needs of business and individuals to innovate and disrupt, to promote innovation and progress in technology and business from a professional and global perspective, and to expand the possibilities of the future. We are committed to building a Silicon Valley-style core curriculum, products and services for business and business leaders, providing customized innovation solutions, expanding the knowledge and innovation of companies and leaders, and building a sustainable innovation ecosystem to encourage knowledge-building and action. We strive to maximize the intellectual capital and potential for business and individuals.
We are convinced of the importance of lifelong learning. Curiosity exists in our genes, and the future belongs to people and organizations that constantly renew themselves. 
We are convinced that the spirit of innovation contains the energy to change the world. Thinking outside the box, exploring the unknown are the engines driving technology and innovation.
We are convinced that knowledge as action keep us grounded. Combining theory with practice, making mistakes, and iterate as we do can make us become giants of thought and action.
We are convinced that think globally is both an attitude and a requirement. In the context of globalization, think globally will allow us to think with vision and the empathy for all mankind.
Echo: Co-Founder and President
Echo Cheng is the Co-Founder and President of Silicon Valley Future Academy, Managing Partner of Brightway Future Capital. She is also the Co-Chair for the Charter Member Club of HYSTA, Director of the Cheung Kong Graduate School of Business Alumni Association, Startup Mentor for Huazhong University of Science and Technology. Ms. Cheng has more than 15 years of experience in management, entrepreneurship and investment in global high- tech and Internet companies. She has held senior management positions at HP and Alibaba. She holds a bachelor's degree in automation and marketing from Huazhong University of Science and Technology, a master's degree in business administration from CKGSB and Haas School of Business at UC Berkeley.
Chenyang Xu: Co-Founder
Dr Xu is the Co-Founder of Silicon Valley Future Academy. He is a Fellow of the Institute of Electrical and Electronics Engineers (IEEE), a Member of the Industrial Advisory Board of the Department of Electrical Engineering and Computer Science at the University of California, Berkeley, a Visiting professor for EMBA program at Tsinghua University, a Managing Partner of Perception Vision Medical Technologies and a founding Co-Chair of the Silicon Valley Innovation Leadership Forum. He has served as General Manager of the Siemens Technology to Business in Silicon Valley and Program Manager of the US Interventional Imaging Research Office at Siemens. Dr. Xu received his MS and PhD degrees in Electrical and Computer Engineering from Johns Hopkins University.
David Chen: Co-Founder
David Chen is the Co-Founder of Silicon Valley Future Academy. He is a Partner at Sequoia- Broadband Digital Economy Cross-border Fund and serves as advisor to several venture capital funds, including West Summit Capital, Ivy League Capital, etc. He also serves as the President of HYSTA. He co-founded VanceInfo, and served as Vice Chairman & President. He graduated with a MS in Computer Science from UC Irvine, and a BS in Electrical Engineering from Tongji University.
David Haubert
Mayor of Dublin, California
Silicon Valley Future Academy really knows what it takes to bring the right global leaders together into an ecosystem of mutual collaboration and benefit. I fully support them.
Prof. G. Scott Hubbard
Adjunct Professor in Aeronautics and Astronautics at Stanford University, Chair of SpaceX Commercial Crew Safety Advisory Panel, Former Director of NASA's Ames Research Center
Silicon Valley Future Academy provides an international platform where business, technology and forward looking concepts converge. I have always believed that there's "Innovation at the intersections" . My interaction and discussion with the participants in the program has been quite stimulating.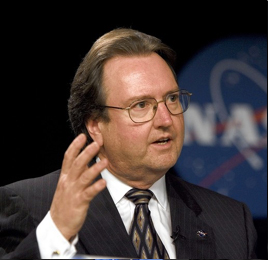 Paul P Campbell
Chief Innovation Officer at the SV Innovation Center for WL Gore & Assoc.
Silicon Valley Future Academy provides the timely window into future science, technology, innovation, and economy frontier knowledge to business leaders from the globe. Its top-notch faculty members and exceptional team are its secret recipes to success.
Ken Wilcox
Chairman Emeritus of the Board and former CEO of Silicon Valley Bank
I am glad Silicon Valley Future Academy takes on the mission to inspire the leaders of tomorrow's tech and business world. Being global is an essential quality for everyone in the future.